A rich heritage of engineering with unrivalled quality.
Based in the heartland of Britain's industrial heritage, we offer engineering excellence borne from our long history of manufacturing and evolving capabilities. We have a tradition that dates back to our foundation in 1877 and we adhere to core values that have stood the test of time. How well our products work and how long they last drive our commitment to quality. It is about delivering value for money and on our promises that have allowed us to successfully do business with more than 50 countries across the globe. We know how important reputation is. We make new, we make spares, we refurbish, and we advise.
ISO 9001 certified precision manufacturing
We are an ISO 9001 certified business, and we have been so for nearly 20 years. At the heart of our business is our dedication to quality. We always look to continually improve our engineering processes. Our ISO 9001 certificate helps us to remain a leading manufacturer. Please review our current Quality Policy Statement.
Our Story
01
Glass Industry
We are the most experienced provider for batch charging technology with a consultancy service that's second to none, offering a wide range of standard and bespoke charging solutions to match all your requirements.
02
Precision Engineering
Do you have a specialist engineering project? We would be glad to help you deliver it. At Glassworks Engineering, we provide quality, in-house designs and builds. Our team have many years of industry experience in glass-melting.
Have a question about our services?
No matter how big or small, get in touch with us and see what we can do for you. You can also get a quick, online quote for our precision engineering services.
Contact us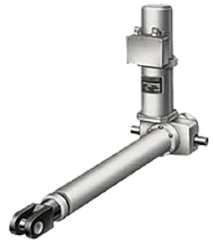 The Electric Actuator Company is now a Glassworks Hounsell Company.
Glassworks Hounsell acquired the business in April 2022. The Electric Actuator Company specialises in the design, build and supply of the best quality actuators and are available to customers worldwide.
Visit Website
Latest News from Glassworks Hounsell